Betting on live sports betting odds can have a lot of advantage for a lot of punters – the following article aims at introducing sports that are the most attractive for live sport betting fans.
Football
Football is undoubtedly one of the most exciting forms of live and online betting –  football live betting is very popular mainly due to the vast array of particular bets on offer. For example, gamblers can bet on the final outcome of the game, they can bet on how many goals will be scored, who will score the next goal, how many corner kicks will occur during the game, how many red cards will be shown, at what minute will the next goal be scored, how many penalties will be awarded, and who will be man of the match, amongst others.
Tennis and Cycling
For gamblers who prefer to bet, sit back and relax, cycling, or tennis, are excellent choices for live betting. The former provides the best live opportunities when large events such as the Tour De France are taking place. Individuals can bet throughout the race, and even place money on which rider will be winning at a particular phase of the race, eg, stage 17.
Tennis works well as a 'live betting' sport as individuals can place a bet at the start of a set, or even at the start of a game, and predict the winner during tennis live betting. Therefore, if for example, Roger Federer is serving to Andy Roddick, then gamblers are able to place a bet on Roddick 'breaking serve' and winning that particular game. Or alternatively, they can place a bet on Roddick winning the entire set.
Snooker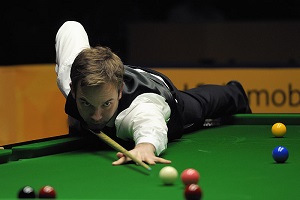 Snooker is another popular live betting sport, probably because the length of games allows for a change in who has the 'upper hand', meaning gamblers can change or place new bets when they see fit. An individual can watch a snooker game on television, and after witnessing, for example, Ronnie O'Sullivan potting three reds, and three blacks, they can bet on O'Sullivan to go on and win the frame.
If they're feeling particularly lucky, they could place a bet on O'Sullivan making a maximum break. Gamblers can place as many live selections during a sporting event as they please, so one failed better doesn't necessarily mean there is no money to be won.